The Future of Creative Placemaking in Higher Education
January 31, 2018
Webinar recording
Power Point presentation
Webinar transcript
On November 1 at Boston University, Garry Golden presented on "The Future of Creative Placemaking" for a intimate, working group mini-conference on creative placemaking in higher education. On January 31 (
3pm EST
), he will reprise the session for a larger audience. Golden, from 
Futurethink
, galvanized participants with insights into what the landscape for future creative placemaking efforts will look like. This webinar will benefit those who are actively involved in creative placemaking research, practice, or teaching in your community or simply curious about future trends.
Garry Golden
Garry Golden is an academically trained Futurist who speaks and consults on issues shaping business and society in the 21st century. He was worked with a wide range of organizations including: American Alliance of Museums, Kennedy Center for Performing Arts, Microsoft, Woodruff Arts Center, and Walt Disney Company.
Garry received his Masters degree from the University of Houston Futures Studies program (M.S.), and is a past member on the Board of Directors of the Association of Professional Futurists (APF). He lives in an old tilted row home in Brooklyn, NY with his wife and his young sons.
---
Integrating the Arts at Land Grant Institutions
June 9, 2017
Watch webinar
Read audio transcript
Supplemental materials – coming soon!
This session, Integrating the Arts at Land Grant Institutions, explores the landscape of arts and arts-interdisciplinary efforts in research universities across the country. This webinar provides case studies, benefits, and practices for integrating the arts at land grant institutions.
Stephen D. Beck
Derryl and Helen Haymon Professor of Music
Assistant Vice President at Office of Research and Economic Development
Louisiana State University
Stephen David Beck is the Haymon Professor of Composition and Computer Music. He holds a joint appointment at the Center for Computation & Technology, where he previously served as the Area Head for the Cultural Computing focus area and Director of the AVATAR Initiative in Digital Media. He was also Interim Director of the center from 2008-2010.
Dr. Beck received his Ph.D. in music composition and theory from the University of California, Los Angeles, in 1988, and held a Fulbright Fellowship in 1985-86 where he was a researcher at the Institut de Recherche et Coordination Acoustique/Musique (IRCAM) in Paris, France. His current research includes sound diffusion systems, high-performance computing applications in music, and virtual music instruments, a system of interactive computer programs that extend and expand on the performance capabilities of acoustic instruments.
His music has been performed throughout the world, including performances at Weill Recital Hall, Sao Paolo Bienal '91, SCREAM Radio Series, Concert Band Directors National Association Biennial, North American Saxophone Alliance, New Music America, World Harp Congress, and on the Triforium Series in Los Angeles. His music and writings have been published by G. Shirmer, MIT Press, and the Computer Music Journal, and his music has been recorded on the SEAMUS, EMF and Gothic record lables.
Dr. Beck has also presented lectures and papers on his research in interactive computer music and high-performance computing applications in the arts at recent meetings of the International Computer Music Conference, the Global Grid Forum, the Teaching in Higher Education (THE) Forum, the Society for Electro-Acoustic Music in the United States (SEAMUS), and the Society of Composers, Inc. He currently serves as Music Coordinator and Regional Director (Americas) of the International Computer Music Association. He also served on the board of officers of SEAMUS, most recently as President (1996-2000).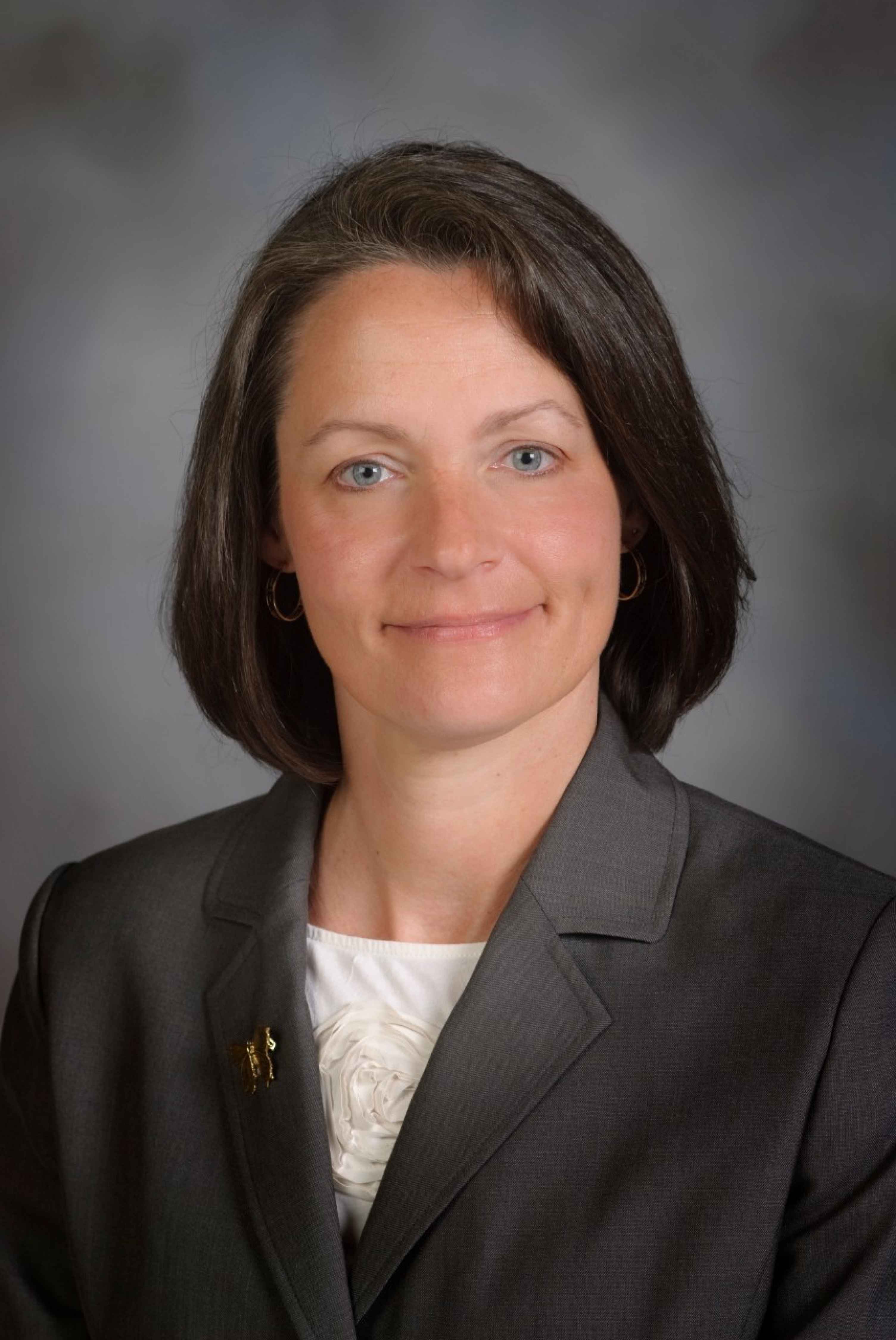 Ruth Waalkes
Associate Provost and Director
Center for the Arts
Virginia Tech
Ruth Waalkes joined Virginia Tech in September 2009 as Executive Director of the Center for the Arts. In January 2013 she was named Associate Provost for the Arts, in addition to serving as the center's Executive Director. In these roles she is responsible for setting strategic direction and creating programmatic priorities for university level arts initiatives; and for leading the overall development, artistic programming, and operations of the Moss Arts Center.
Previously Ms. Waalkes was Director of Artistic Initiatives for the University of Maryland's Clarice Smith Performing Arts Center in College Park, MD, which she helped to launch when it opened in 2001. At the Clarice Smith Center she was responsible for all artistic programming encompassing presented performances, residencies, campus and community engagement, and commissioning of new works. During her tenure there she built a significant national profile for the Clarice Smith Center and established the center as a vital part of both the University of Maryland campus community, and the greater arts landscape in the Washington, DC region.
Ms. Waalkes has more than twenty five years' experience as a leader in arts administration and community-based nonprofit management. Past positions include serving as director of alumni affairs for the A. James Clark School of Engineering at the University of Maryland. Before moving to Maryland she served for four years as executive director of Volunteer Fairfax in Northern Virginia, directing all aspects of this nonprofit service organization and leading it to significant new levels of growth. Prior to that she worked for five years with the Arts Council of Fairfax County as the director of programs, where she managed all performing and visual arts initiatives and served as artistic producer for the council's annual International Children's Festival, held at Wolf Trap Farm Park for the Performing Arts.
A native of Holland, Michigan, Ms. Waalkes received her bachelor's degree in theatre and drama from the University of Michigan. She has participated in numerous community-based volunteer capacities throughout her career, and has served as a grant review panelist for the Virginia Commission for the Arts, Creative Capital Foundation, and the National Endowment for the Arts. She has been a speaker at national conferences including the Association of Performing Arts Presenters, Chamber Music America, the Alliance for Arts at Research Universities, and the Society of College and University Planners.
Stephen Waller
Dean
College of Agricultural Sciences and Natural Resources
University of Nebraska-Lincoln
Steve Waller was named dean of the College of Agricultural Sciences and Natural Resources in June 2002 after serving as interim dean for about two years.
Waller, a native Midwesterner, received an associate of science degree in 1967 from Vincennes University, where he studied preforestry; a bachelor of science degree in conservation in 1970 from Purdue University; and a doctorate in range science in 1975 from Texas A&M University.
In 1975-78, Waller was faculty member in the Animal Science department at South Dakota State University. He came to UNL's Department of Agronomy in 1978. Until 2000, Waller held joint administrative appointments with CASNR and the Agricultural Research Division as well as continuing his affiliation with the agronomy department.
Waller's research program and teaching responsibilities at UNL emphasized range management and improvement, livestock management on range and pasture, and forage evaluation.
Waller and his wife, Jessie, have two daughters and a son, Christina and her husband, Bill Patterson, who live in McMinnville, Tenn.;
Scott Waller, his wife Melanie, who live near Lincoln; Lauren Waller is currently a student at UNL.
Deb Mexicotte, Moderator
Associate Director
ArtsEngine
University of Michigan
Debra Mexicotte received her BFA and MA in Theatre from Case Western Reserve University and the University of Michigan, and worked in local and regional theatre as a designer and painter before starting her career in higher ed. She has spent her career at the University of Michigan working to partner with students and student organizations to help them achieve their highest developmental aspirations. Deb was named Student Organization Adviser of the Year in 1999. Most recently, she spent eight years as the Program Director for Arts at Michigan, a co-curricular arts engagement program at UM. She has also served as President of the Ann Arbor Board of Education and has served the community as a Trustee since 2003.
---
Addressing Declining Enrollment in the Arts & Humanities at Research Universities
February 16, 2017
Watch webinar
Read audio transcript
Supplemental Materials – coming soon!
Addressing declining enrollment in the Arts & Humanities at Research Universities will address trends in enrollment and strategies to combat declining enrollment, find new partners, and reach out to surrounding communities. Participants will get a current snapshot of arts and humanities trends – a full discussion of successful strategies a2ru partners have taken to prevent or reverse trends in declining enrollment in the arts and humanities.
Our panelists for this webinar include:
LeAnn Starlin Nilsson
Director, Academic Recruitment & Retention
College of Arts
Kent State University
LeAnn Starlin Nilsson currently serves as the Academic Recruitment & Retention Director for the College of the Arts at Kent State University. In this role, she is responsible for recruitment and retention of students in the Music, Theater and Dance, Art and Fashion. In addition, she leads College initiatives for academic diversity outreach to underrepresented students. Prior to this, LeAnn worked at the Cleveland Institute of Art and Hiram College in student activities, new student orientation, student leadership development and service learning. She is currently pursuing a Doctorate of Philosophy in Higher Education with research focusing on social capital and the college selection process for Appalachian women.
Sheena Ramirez
Portfolio, Audition & Recruitment Coordinator
College of Visual & Performing Arts
James Madison University
Sheena Ramirez has served as the Portfolio, Audition and Recruitment Coordinator for the College of Visual and Performing Arts at James Madison University in Harrisonburg, Virginia since May 2015.  She works with prospective students across three schools – the School of Art, Design, and Art History; the School of Music; and the School of Theatre and Dance.  In this role, she is responsible for developing college-wide recruitment events and initiatives, attending high school visits and arts college fairs, planning audition and portfolio review days, delivering arts specific communications, and systematic data integrity and analysis.  Prior to this position, she was the Campus Experience Manager and CRM Specialist in the Undergraduate Admissions Office at Stevens Institute of Technology in New Jersey.
Ramirez holds a bachelor's degree from Oberlin Conservatory and a master's degree from New England Conservatory in Vocal Performance.  She has performed dozens of operatic roles, and was recently praised as a "light, perky soprano" in the American premier of Donizetti's Olivo e Pasquale by the New York Times.  In 2015, she was named "Best Female Voice" for her portrayal of Patience in Patience at the International Gilbert and Sullivan Festival in Harrogate, England.  She is currently earning her doctorate in Voice Performance with an emphasis in Singing Health at James Madison University.
Dean Noel Zahler
J.T. & Margaret Talkington College of Visual & Performing Arts
Texas Tech University 
Dr. Noel Zahler has been selected as the new dean for the College of Visual & Performing Arts (VPA) at Texas Tech University. Dr. Zahler comes with a background in Performing Arts, Communications and Design at the C.W. Post campus of Long Island University (LIU).
Prior to coming to Texas Tech, Zahler was dean of the College of Arts, Communication and Design at Long Island University (LIU). He was head of the School of Music at Carnegie Mellon University for four years and University of Minnesota for three years. He spent 20 years at Connecticut College, ending his career there as the Sylvia Pasternak Marx Professor of Music.
While at LIU, Zahler increased recruitment among international students, authored articulation agreements with institutions in Norway, Saudi Arabia, Italy, China and others and created a Summer High School Honors Institute residency program for prospective students. He also worked with other colleges on campus, including the School of Health Professions and Nursing and the College of Management, to create collaborative programs.
Zahler holds bachelor's and master's degrees from City University of New York's Queens College, a master of fine arts degree from Princeton University and a doctor of musical arts from Columbia University as well as a Certificato di Perfezionamento from L'Accademia Musicale Chigiana in Siena, Italy. He also has studied at The Juilliard School. He is the recipient of numerous awards and prizes, including a National Endowment for the Arts Consortium Commission, a Fulbright/Hayes Fellowship and an Aaron Copland Foundation Grant. Zahler has received funding from the National Science Foundation, the Howard Hughes Medical Institute, and the Italian National Research Council.
Dean Todd Queen 

Penniman Family Professor of Music
College of Music and Dramatic Arts
Louisiana State University
Dr. Todd Queen was recently appointed as Dean of the LSU College of Music & Dramatic Arts. Prior to his appointment, he served as professor of Voice and Chair of the Department of Music, Theatre and Dance in the College of Liberal Arts at Colorado State University. His unique combination of teaching, directing and performing experience has allowed him to travel the world as a teacher, stage director and singer.
Queen has recently cultivated those experiences in a new direction, working as an arts administrator and international arts ambassador. Queen has traveled to Asia on multiple occasions to forge a partnership with East China Normal University (ECNU) in Shanghai, where he was named Visiting Professor. In 2011 Queen co-founded Opera Orvieto, a three-week summer intensive Italian operatic experience, where he served as Artistic and Stage Director. During his time at CSU, Queen helped bring in gifts and pledges totaling more than $2 million to the department, including ten new endowed scholarships and the naming of the Charles and Reta Ralph Opera Center at CSU, one of a handful of named opera programs in the United States.
In 2012 Queen was the catalyst in forming the LEAP (Leadership, Entrepreneurship, Arts Advocacy and the Public) Institute for the Arts at Colorado State, an interdisciplinary academic unit that houses both an undergraduate minor and graduate program in arts leadership and administration.
Todd Queen joined the CSU voice faculty in 2001 as Assistant Professor of Voice and Director of Colorado State Opera Theatre. Dr. Queen earned the DMA and MM degrees from the prestigious Eastman School of Music after completing his undergraduate degree at Brigham Young University.
Arny Nadler, Moderator
Associate Professor of Art and Chair of Undergraduate Art
Sam Fox School of Design and Visual Arts
Washington University in St. Louis
Arny Nadler is a sculptor and associate professor in the Sam Fox School, where he is chair of undergraduate art. In 2013, Nadler was awarded a $20,000 Regional Arts Commission Fellowship. He has also received a George Sugarman Foundation grant and two Faculty Creative Research Grants from Washington University. In 2012, Gallery 210 at the University of Missouri-St. Louis commissioned him to create the permanent, site-specific sculpture Whelm. Nadler has exhibited his work—from outdoor installations in steel to hand-built ceramic pieces—at galleries, biennials, and universities across the country, including the Newport Beach-California Civic Center, Evanston Art Center, Turchin Art Center, Sculpture Key West, Kingston Sculpture Biennial, Maryland Hall Center for the Creative Arts, Millikin University, Western Michigan University, Rockland Center for the Arts, University of Alabama-Huntsville, and the Mitchell Museum. His work has been reviewed in Art in America and other notable publications. Nadler has presented at Foundations in Art: Theory and Education Conference and the Mid-America College Art Association Conference, and he has been a visiting artist at several universities and colleges. Nadler earned his MFA in Sculpture from Cranbrook Academy of Art and his BFA in Sculpture from Washington University in St. Louis.
---
Integrating Creativity into Living Learning Communities
Emerging as an important topic at the 2015 a2ru National Conference, this webinar will present information from three distinct living learning community models:
• Living Arts, University of Michigan – an interdisciplinary maker community for first and second year students studying the arts, humanities, architecture and engineering and housed within the ArtsEngine program.
• The Entrepreneurial Community at Infinity Hall, University of Florida – an interdisciplinary learning center that supports student' expression of creativity, innovation and entrepreneurship in a dynamic academic and business oriented environment.
• Creative Expressions, Musical Motifs, and From Novel to Big Screen, Northeastern University – three arts-focused living learning communities that are among those in which all first-year students are enrolled.
Our panelists for this webinar include Dr. Mark Jones, Program Director for Living Arts at the University of Michigan; Dr. Anthony Kolenic, Assistant Dean of Research, Technology and Administrative Affairs at the University of Florida; Dr. T.J. Logan, Director of Housing for Administrative Services at the University of Florida. and Kara Curcio, Assistant Director for Residential Life at Northeastern University.
Participants will:
• Gain an understanding of three very different living learning community models, all of which use creative curricular and co-curricular production to increase student learning and help students move toward their chosen careers.
• Learn how each community helps its host institution improve student retention, recruitment and engagement.
• Learn about the challenges encountered by these communities, about how institutions structure and support them, and how students believe these environments are meeting their academic, social/emotional and aspirational needs.
Moderating the webinar is Alan MacVey, Professor/Chair of the Theatre Arts Dept. and Director of the Division of Performing Arts at University of Iowa; and Deb Mexicotte, a2ru Associate Director.
---
Creating Faculty-Driven Catalysts for Sustainable Collaborations
February 26, 2016
Listen to the Audio
Download the Powerpoint Presentation
Explore related videos and more on the Transdisciplinary Colloquium
View Full Transcript Here
Presented first as an outstanding and important session at the recent a2ru 2015 Annual Conference, Groundworks, this webinar explores how a team at the University of Utah created an innovative and low-cost faculty driven model to foster transdisciplinary research by engaging individual researchers from widely different disciplines around a common theme in ways that will move their own and others' fields forward.
This diverse panel of participating faculty and staff from the University of Utah includes Nalini Nadkarni, Professor, Department of Biology; Glenn Prestwich, Presidential Professor of Medicinal Chemistry and Director of the Entrepreneurial Faculty Scholars; Sarah Hinners, Acting Director of the Ecological Planning Center, and Assistant Research Professor, Department of City and Metropolitan Planning; Russ Isabella, Professor, Department of Family and Consumer Studies; and Ellen Bromberg, Distinguished Professor, Department of Modern Dance.
Gain an understanding of the impetus and process for beginning a major cross-campus collaborative symposium, the benefits to participating faculty's professional development and practice, the small supports needed to sustain the initiative, and finally, the robust and continuing curricular and research impacts derived from this shared work.
Moderating the discussion is Deb Mexicotte, a2ru Associate Director and Lauren Fretz Thompson, a2ru Education Specialist.
The webinar concludes with a 15 minute Q & A from the audience.
---
Curricular and Co-Curricular Trends
April 23, 2015
Moderating the discussion is Mark Law, Ph.D., Director of the Honors Program and Professor in the Department of Electrical and Computer Engineering at the University of Florida.
To begin, Bruce Mackh, Ph.D., Mellon Research Project Director from University of Michigan's ArtsEngine, highlights national trends in curricular and co-curricular models, obstacles, strategies, costs, and impacts resulting from a three-year study funded by the Andrew W. Mellon Foundation (20 min)
Carmon Colangelo, Dean of the Sam Fox School of Visual Arts at Washington University in St. Louis, and Lauren Lake, Chair of the Department of Art & Art History at the University of Alabama-Birmingham, then discuss the range of issues facing curriculum development on their own campuses, as well as what the future may hold (20 min)
The second conversation, featuring Eric Beatty, Director of the Homewood Arts Program at Johns Hopkins University and Deb Mexicotte, Program Director of Arts at Michigan, focuses on co-curricular efforts and emerging directions on their campuses (20 min)
The webinar concludes with a 30 min Q & A from the audience.